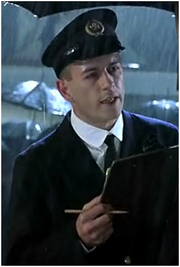 The Carpathia Steward was a steward working on the Carpathia. He had been one of the men on the ship who had assisted in rescuing the Titanic's passengers in the aftermath of the sinking.
Once the ship arrived in New York, he helps to make a list of survivors rescued from the ship. When he asks for Rose Dewitt Buckater her name, she gives "Dawson" as her surname, in memory of the man she loves and has lost in the sinking.
Behind the scenes
Edit
The Steward was portrayed by Greg Ellis.
Ad blocker interference detected!
Wikia is a free-to-use site that makes money from advertising. We have a modified experience for viewers using ad blockers

Wikia is not accessible if you've made further modifications. Remove the custom ad blocker rule(s) and the page will load as expected.