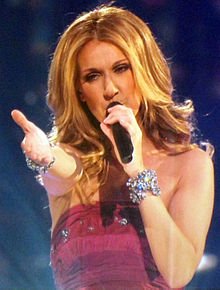 Celine Marie Claudette Dion
Biographical information
Celine Marie Claudette Dion, born March 30th, 1968 in Repentigny, Quebec, is a French Canadian pop singer. She is best known for her song from the 1997 film Titanic, "My Heart Will Go On."
Discography
Edit
English-language studio albums
1990: Unison
1992: Celine Dion
1993: The Coulour of my Love
1996: Falling into You
1997: Let's Talk About Love
1998: These Are Special Times
2002: A New Day Has Come
2003: One Heart
2004: Miracle
2007: Taking Chances
French-language studio albums
1981: La Voix du Bon Dieu
1981: Celine Dion chante Noel
1982: Tellement j'ai d'amour
1983: Les chemins de ma maison
1983: Chants et contes de Noel
1984: Melanie
1985: C'est pour toi
1987: Incognito
1991: Dion chante Plamondon
1995: D'eux
1998: S'il suffisait d'aimer
2003: 1 fille and 4 types
2007: D'elles
Ad blocker interference detected!
Wikia is a free-to-use site that makes money from advertising. We have a modified experience for viewers using ad blockers

Wikia is not accessible if you've made further modifications. Remove the custom ad blocker rule(s) and the page will load as expected.