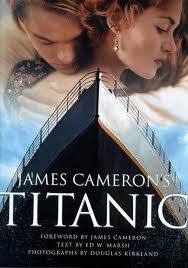 James Cameron's Titanic
is a book by Ed W. Marsh, featuring photographs by Douglas Kirkland and a foreword by
James Cameron
It was published in 1997 by Harper Perennial. It was a #1
New York Times
bestseller. The book consisted of a treasury of information about the film, including information about filming and interviews with the cast and crew.
James Cameron's Titanic chronicles the cinematic re-creation of the most legendary ocean disaster of all time as seen through the eyes of a master storyteller. Set against the ship's fateful maiden voyage. Cameron's much anticipated motion picture epic weaves a rich human tapestry of romance, heroism, tragedy, and greed.
Within these pages is a detailed look at the monumental effort by thousands of artists and craftsmen to accurately re-create the "ship of dreams", including the full-size exterior replica of the ship and the seventeen- million-gallon tank facility designed to sink her; a wealth of detailed interior spaces; new discoveries from Cameron's 1995 dives to the wreck., some two-and-a-half miles below the ocean surface; studies of the ornate wardrobe, makeup and hairstyles, that defined the looks of the "Gilded Age"; an overview of the film's groundbreaking visual effects work; and in-depth interviews with the cast and crew, all referenced to the historic events of the Titanic's maiden and final voyage,
Ad blocker interference detected!
Wikia is a free-to-use site that makes money from advertising. We have a modified experience for viewers using ad blockers

Wikia is not accessible if you've made further modifications. Remove the custom ad blocker rule(s) and the page will load as expected.