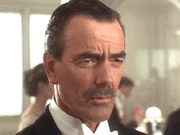 John Jacob Astor IV
(July 13, 1864 – April 15, 1912) was an American businessman, real estate builder, investor, inventor, writer, lieutenant colonel in the Spanish-American War and a member of the prominent Astor family.
In April 1912, Astor earned a prominent place in history when he embarked on the ocean liner RMS Titanic, which sank four days into its maiden voyage after colliding with an iceberg. Astor perished in the sinking.
Astor boarded the RMS Titanic with his second wife Madeleine Talmage Force. Many disapproved of J.J.'s marriage to Madeleine not only because she was 18 and he was a 47 year old man when they wed, but because he had only divorced his first wife, Ava Lowle Willing, two years earlier. When Margaret Brown boarded the RMS Titanic, Astor was in the elevator and they waved at each other. During the dining scene, he was introduced to Jack Dawson. Since he looked rich he asked him "Are you of the Boston Dawsons?" For his reply he got a nod no and a name of a small town. He took a seat next to his wife and later on went to have brandy with the rest of the gentlemen in the smoking room.
During the sinking he let his wife go in Lifeboat 4 and stayed on the ship to look for his dog, then seeing that all hope was lost, he stayed in the flooding Grand Staircase. He held onto a post of the staircase when the Grand Staircase's dome breaks, flooding the entire room.
Behind the scenes
Edit
He was portrayed by Eric Braeden. Braeden was cast into the role due to a strong resemblance to the real John Jacob Astor.
For many years, Titanic researchers believed the real Astor died after being crushed when one of the ship's funnels collapsed. Astor's body was recovered on April 22 by the steamer Mackay-Bennett, a cable-ship chartered by White Star Line (the Titanic's shipping company). But all who examined his body maintained that it was in perfect condition with no bruising or disfigured in a manner suggesting that he had been killed by a falling funnel. Survivor Philip Mock claimed to have seen Astor in the water clinging to a raft with William Thomas Stead. "Their feet became frozen," said Mock, "and they were forced to release their hold. Both were drowned."
External Links
Edit