This article is about the Norweigan father of Helga Dahl. You may be looking for the Swedish poker player.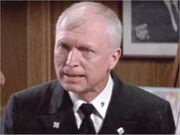 Olaf Dahl
was the demanding father of
Helga Dahl
. He was Norweigan. He did not approve of his daughter's romance with
Fabrizio De Rossi
and ended their relationship when he refused to let her go with him to America, however, Helga and Fabrizio both died during the sinking of the
RMS Titanic
. Olaf died in the sinking of the ship, along with his wife and daughter, although it was from an unknown cause. He is assumed to have drowned after falling off the stern.
Due to the fact that they received such little screentime, Mrs. Dahl and Olaf do not appear in Rose DeWitt Bukater's Titanic dream sequence.
Interestingly, Olaf Dahl shares the same first name as Olaf.
In James Cameron's film, Titanic, Olaf Dahl was played by Erik Holland.