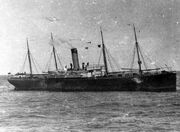 SS Californian
was a Leyland line steamship built in 1901. She was briefly seen and shown in a a deleted seen in
James Cameron
's film,
Titanic
She acquired infamy for her controversial location during the sinking of RMS Titanic. She met her own demise during World War I as a U-boat casualty of Cape Matapan in the Eastern Mediterranean on November 9, 1915.
Ad blocker interference detected!
Wikia is a free-to-use site that makes money from advertising. We have a modified experience for viewers using ad blockers

Wikia is not accessible if you've made further modifications. Remove the custom ad blocker rule(s) and the page will load as expected.