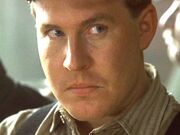 Sven Gundersen
was a Swedish poker player who was the brother of 
Olaf Gunderson
. He lived in Southampton, England. He and Olaf planned on boarding the
RMS Titanic
, with the third class tickets he and his brother managed to buy; they still had some substantial money though, enough to wager at poker.
Biography
Edit
On the day of the trip, the pair found themselves in a heavy stakes poker game Jack Dawson and Fabrizio De Rossi. Sven had bet their tickets as a way of making their opponents go all in with everything they had, something Olaf was against. Despite Sven having two pairs, Jack beat him with a full house, resulting in them losing their tickets aboard the ship.
As Jack collected their winnings, Sven watched supportingly as Olaf grabbed the American and prepared to strike only to then strike Sven himself instead, knocking him out, due to the man having lost them tickets that cost them a fortune.
This unfortunate event ironically saved Olaf's and Sven's lives, as both Jack and Fabrizio died when the ship sunk, which means he and Sven would most-likely have perished during the Titanic's sinking instead if he were to have won the game.
Behind the scenes
Edit
After close examination of the boarding pass prop used in the film, it's shown that both Sven and Olaf's last name is Gundersen, Indicating that they are brothers.
He was portrayed by Dan Pettersson.
Ad blocker interference detected!
Wikia is a free-to-use site that makes money from advertising. We have a modified experience for viewers using ad blockers

Wikia is not accessible if you've made further modifications. Remove the custom ad blocker rule(s) and the page will load as expected.